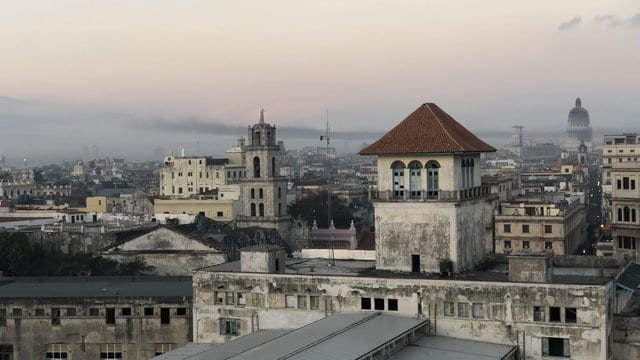 June 12, 2019
no comments
---
Americans have been able to visit Cuba since 2016. However, in June of 2019, all travel to Cuba has been stopped. This article was written before we were told we couldn't visit anymore. I visited Cuba in January of 2019.
I've always wanted to visit Cuba, but of course, I wasn't allowed to until recently. I'm an explorer whether it's a nature or urban environment so I started planning. In January 2019, I was ready and able to visit Cuba. Here are my notes on visiting the country and some key points on what to expect when you get the chance to visit.
Best Way To Travel To Cuba
You can get to Cuba by cruise or by flying. I found that with using a cruise line, there are more protections. For example:
Insurance
Internet access
Ship at port for: sleep, food, restrooms, doctors, etc.
Emergencies
Safety – The ship won't leave if you're not on it to depart
Toilet paper (Very little on island)
I ended up choosing Royal Caribbean. I selected the 5 night Key West & Havana Overnight cruise package. I booked it for January 14, 2019. I choose January to go based on weather as I didn't want to be stuck on a cruise during stormy weather. January is a calm month at sea here.
I live in Orlando, FL and my disembark port was Fort Lauderdale, FL (Port Everglades) which is just a few hours drive from my home. I have friends in Delray Beach so I could stay with them for the weekend until I departed on Monday.
Documentation Needed To Visit Cuba
Driver's License
Passport
Ship Card
Visa – Royal Caribbean got my visa for me. There are a number of options to choose from on why you are going but I wasn't asked about before, during or after I went. It was $75 and I paid the cruiseline for this in advance.
Excursions For Cuban Travelers
I didn't know anything about Cuba and the streets outside of what I had seen on YouTube so I selected the day tour and night tour of the city. I wanted to make sure I knew the streets and area the first day so the second day I could just hike and film. Looking back, I wish I had not selected anything and just went directly out to into the streets to explore. This is what I'll do when I go back.
The cruise will make you feel you have to select an excursion to get off the ship and into the city. This is not true. The first day was going on an excursion but my second day there, I simply walked off the ship. I was asked by customs if I had an excursion and I said no, I was going solo. They said "Ok" and told me to move forward.
Going Through Customs While Getting Into Cuba
This was very easy. The line was very long when I first got in line but it moved very fast. I was surprised. It took maybe 15 minutes. The line appeared to be an hour long but they were fast getting me through.
You simply walk up to the customs agent, hand him your passport (he stamps it) and let him take a picture of you and that's it. You're in. You'll walk another 25 yards and have to go through security just like you in an airport. No wait or delay here either. It was fast moving.
Changing American Currency For Cuban Currency
Once you clear security, just walk straight ahead and you'll see a dead end to the building where you can stand in a fast moving line to exchange US currency to Cuban CUCs. You get 1 CUC for every $0.87 American. There's a 13% difference. I got $200 American dollars exchanged and that lasted me my whole trip.
Internet Access
You'll find internet access at local kiosks along the street. You'll know you're near one when you see a lot of people looking down at their phones. You can purchase internet access from these tiny kiosks and use it for a prepaid amount of time by using a pass code. Because I had a cruise ship at port, I simply went back onboard to send out anything I needed to.
When I arrived at port my first morning, I received a text message from AT&T and it read:
AT&T Free Msg: Welcome to Cuba! Your international rates in Cuba are: data $2.05/MB, talk $3.00/min, text $0.50/text msg sent, $1.30/photo or video msg sent. Please note international roaming packages do not apply in Cuba. You may turn off data in your device Settings. For questions, please call +1.214.547.2300 (a free call from this phone).
I ended up purchasing an internet plan on the cruise ship so I would go out and film all day and when I got back to the ship at the end of the day, I would access the internet to process my photos and post them to social media.
Cubans Speak English
I was a little concerned on my way there as I'm not good at speaking Spanish. I downloaded the Google Translate App as I thought I would need to use it a lot. Turns out, almost everyone in Cuba speaks English. The only issue I had was with the older citizens. It appeared that everyone under the age of 60 knew enough English that I could get by.
Fusterlandia
Art and culture go hand in hand when it comes to Cuba and many places celebrate both but one area is just booming with it. It has also become a popular travel destination when visiting Cuba.
Fusterlandia, located just 20 minutes outside of downtown Havana, Cuba. It's an architectural dreamscape. Cuban artist Jose Rodriguez Fuster began the project in 1975 when he converted his home into an art museum using mosaic tiles.
Becoming a neighborhood attraction, Fuster's neighbors began giving up their homes so that he could expand his project. After a while, they began to contribute to the project which allowed an introduction of architects and artists.
Fuster's home is still the center point of the entire project but the whole neighborhood is decked out with mosaics and sculptures which became the project known as Fusterlandia. To get the best view of this wonderland, it's best to climb a few levels up. At this level, it's easy to see why Fuster is known as the "Picasso of the Caribbean" with its bold, surreal and childlike depictions. This comparison in his art has made Fuster successful in gallery tours across Europe.
At the entrance, a declaration is made to the park as "homage to Gaudi."
Cuba has very little options when it comes new artists creating art so many are forced to make do with what they have. This can lead to some very unique and unexpected pieces. Fusterlandia is not only unlike anything you will see around Cuba, it's very different and unexpected than anything you will see in the whole world. It's unique and captures both the spirits and resilience of Cubans.
Fuster is just one of the artists celebrated in Cuba. Trained at the Escuela Nacional de Instructores de Arte in Havana, his work has been seen all around the island and around the world from places like Paris to New Delhi. His art appears in more than 600 collective and individual exhibitions.
Fuster, like many great artists knows how to make an impression with his art and his Fusterlandia is just one depiction of that.
The Hotel Nacional de Cuba (National Cuban Hotel)
The Hotel Nacional de Cuba (National Cuban Hotel), a historic hotel in Havana, Cuba that opened in the winter of 1930.  Located on the sea front, the hotel can be found on Taganana Hill and provides great viewpoints of the Malecon, Havana Harbor and the city. Taganana Hill, the site of Santa Clara Battery dates back to 1797 and part of the battery is preserved in the hotel's garden. This includes two large coastal guns which date back to the 19th century.
The interior of the hotel has an old historic Spanish vibe and most of the rooms have a view of the beautiful ocean. Structured by a steel frame, most of the elements on the ground floor are covered in coral stone. The hotel was developed by U.S. engineering firm of Purdy and Henderson and designed by the New York architecture firm of McKim, Mead and White.
In 1492 when Christopher Columbus made it to Cuba, the land where the hotel sits on was called Vedado (means prohibited) and was a forest at the time. Nothing was to be constructed on the land because it was believed that it would make the land more susceptible to pirates.
In its early days the hotel was managed by American managers because Cuba was a popular travel destination for Americans. After Fulgenico Batista's coup against transitional government, it became the residence of Sumner Welles in 1933, who was a special messenger sent by U.S. President Franklin D. Roosevelt to help resolve the crisis. It also became the site of a bloody siege which pitted officers of the Cuban army against non-commissioned officers of the Cuban army, those in support of Batista. The assault on the hotel in 1933 caused damage which includes shell and bullet holes. This period of time is known as the Battle of the Hotel Nacional of Cuba.
In the 1940's, Chicago developer Arnold Kirkeby bought the hotel and operated it for more than a decade. Then in the winter of 1946, the hotel hosted the Havana Conference which was run by Lucky Luciano and Meyer Lansky. Other attendees where Vito Genovese, Albert Anastasia, Frank Costello, Santo Trafficante Jr., and more.
By 1955, the hotel was sold to New York developer William Zeckendorf and the sold again within the same year to Pan Am's Intercontinental Hotels Corporation.  While many people invested in the hotel, a lot of those investors lost everything once Fidel Castro came into power.
As time went on, Meyer Lansky wanted to create luxury suites for high-stakes gamblers within a wing of the hotel but it was opposed by Ernest Hemingway who frequented Cuba, often. Two years after overthrowing Batista, Castro nationalized the hotel in 1960 and closed its casino.
Famous guest over the years include Nat King Cole, Jean-Paul Sartre, Simone de Beauvoir, Winston Churchill, Walt Disney, Jimmy Carter, Frank Sinatra, the Duke and Duchess of Windsor, Fred Astaire,  Ava Gardner, Erroll Flynn, Rita Hayworth, Mickey Mantle, Buster Keaton, Michael Keaton, Steven Spielberg, Marlon Brando, Ernest Hemingway, Jesse Ventura, Rocky Marciano, etc.
Revolution Plaza (Revolution Square)
The Revolution Plaza, aka Revolution Square is a borough and a square in Havana, Cuba. Built by French Urbanist Jean Claude Forestier during the Batista era, the square is filled with iconic images. The Square's buildings include the Minister of Armed Forces, the Ministries of the Interior and Communications, the Palace of the Revolution, etc. The Square also has plenty of historical references and beautiful monuments such as one devoted to Che Guevara, which is adorned with the phrase "Hasta la Victoria Siempre." Another one is devoted to Camilo Cienfuegos which shares "Vas bien Fidel."
It is the 3rd largest city square in the world at 72,000 square feet and is more popularly known for the Jose Marti Memorial Tower.
The Jose Marti Memorial Tower and Lookout stand at 358 feet and is shaped in the form of a star with a statue of Cuba's national hero, Jose Marti. An interior elevator allows for 90 meters of travel as well as a staircase of 579 steps. Above sea level at 129 meters, a panoramic view of the city can be found a top the tower. Marti's memorial statue is 59 feet tall and can be found in front of the tower.  He was a well-known writer and poet as well as a hero of Cuba.
The Jose Marti National Library which is Cuba's largest can also be found in the square as well as the National Theater.
Formally known as the Hill of the Jesuits, Revolution Square is located on the highest point of the city. It was constructed during President Fulgencio Batista's Reign and was once known as Civic Square. It was renamed Revolution Square during Fidel Castro's Cuban Revolution in 1959.
The square has historic ties as being the place where political rallies took place and where Fidel Castro or other political figures addressed Cubans.  During his 1998 visit, Pope John Paul II spoke at the square and became the first Catholic pontiff to visit Cuba. The Pope told the crowd that he was praying that Cuba would become a land of "freedom, mutual trust, social justice and lasting peace." In which, Castro replied, "We choose a thousand deaths rather than abdicate our convictions." Pope Francis also held mass at Revolution Square years later in 2015.
The huge terraces of the Square have been used for Party conferences, anniversaries, as well as holding huge references to historical events such as the assault on Cuartel Moncada.
It has been recognized as the center of Gran Havana and is very popular for tourists which include the Jose Marti Memorial, the Mirador and the rest of the square. It is also home to many different events such as International Worker's Day on May 1st, which is one of the biggest celebrations on the island. Another celebration day is July 26th which marks Castro's attack on Santiago de Cuba's Moncada barracks.
The Square is a symbol of history for Cuba. It is a tour that cannot be missed when visiting Havana.
Che Guevara
Che Guevara, a prominent communist figure in the Cuban Revolution from 1956 to 1959 was also a guerrilla leader in South America. Guevara was born on June 14, 1928 in Rosario, Argentina as Ernesto Guevara de le Serna.
During his early years, Guevara studied medicine at the University of Buenos Aires and became a political activist first in Argentina, Bolivia and Guatemala. He left Guatemala for Mexico. In 1954, he met Cuban revolutionary Fidel Castro and Castro's brother Raul in Mexico. He became a part of Castro's movement to overthrown the Batista government in Cuba. Guevara served as Castro's military advisor and led the guerilla troops in the battles against Batista forces.
In 1959, Castro took power and Guevara took charge of the La Cabana Fortress prison. Under Guevara's charge, it is estimated that a number between 156 and 550 people were executed.
Guevara later became president of the Cuban national bank which helped to shift the country's trade relations from the United States to the Soviet Union. Three years later, he was assigned minister of industry. In 1965, Guevara left this post in order to export the ideas of Cuba's revolution to the rest of the world. In 1966, he tried to get the people of Bolivia to rebel against their government but had little success.
In winter of 1964, Guevara traveled to New York City. There he condemned U.S. intervention in Cuban affairs and incursions into Cuban airspace. In 1965, he dropped out of public life and remained in isolation for the next two years.
On October 9, 1967, Guevara was captured and killed by the Bolivian army in La Higuera. Since his death, he became a legendary political figure. His life has been portrayed in many books and films which includes The Motorcycle Diaries.
Guevara became a powerful symbol after his death. Many people saw him as brutal, murderous and cruel. Though he was also seen as a revolutionary for a generation of young leftist radicals in western Europe and North America in the 1960's. His face began to adorn posters and T-shirts. At first, his image was worn as a statement of rebellion but then became a radical chic statement and is now mostly goes as an unknown symbol to those who wear it. Much like teens today who wear Nirvana shirts and can't name a song by the band. However, for many, he still remains an inspiration of revolutionary action.
Fidel Alejandro Castro Ruz
Fidel Alejandro Castro Ruz (August 13, 1926-November 25, 2016) was a Cuban communist revolutionary and politician. He governed the Republic of Cuba as Prime Minister from 1959 to 1976 and also served as President from 1976-2008. From 1961 to 2011, Castro served as the First Secretary of the Communist Party of Cuba.
After leading an overthrow of Fulgenico Batista in 1959, Castro established the first communist state in the Western Hemisphere. He ruled over Cuba for nearly 50 years until his younger brother Raul took over in 2008. In which time, Castro's regime worked to decrease illiteracy, enhanced public healthcare and reduced racism.
Castro was born on August 13, 1926 in Biran, Cuba to his father, a wealthy Spanish sugarcane farmer who came to the island during the Cuban War of Independence (1895-1898) and mother, a domestic servant for his father's family.
Growing up, Castro attended a couple of Jesuit schools which included Colegio de Belen where he became exceptionally good at baseball. Later, he attended the University of Havana as a law student. During which time, Castro became interested in politics and joined the anti-corruption Orthodox Party. He also participated in an aborted coup attempt Dominican Republic dictator Rafael Trujillo.
By 1950, Castro had graduated from the University and opened his law office and two years later, ran for election in the Cuban House of Representatives. The election however, fell through because Batista seized power.
In 1953, Castro and 120 men attacked the Moncada army barracks in Santiago de Cuba. When the assault failed, Castro was captured and sentenced to 15 years in prison and a lot of his men were killed. The United States backed Batista and in 1955, Castro was released as a part of a general amnesty. Ending up in Mexico, he met another revolutionary Ernesto "Che" Guevara who helped Castro to plan his return to Cuba. Castro and 81 men sailed to the eastern coast of Cuba in 1956 where they were ambushed by government forces that killed all but 18 men. These men included Castro, Castro's brother Raul and Guevara who fled into the Sierra Maestra Mountains.
By 1957, Castro had attracted recruits and won a few battles again Rural Guard patrols. In 1958, Batista tried to snuff out Castro and his men with air force bombers and naval offshore units. Holding their ground, Castro and his men launched their counterattack in early 1959 where he wrestled control from Batista. A week later, Castro arrived in Havana and became Prime Minister.
In 1960, Castro nationalized U.S.-owned businesses which included casinos, factories and oil refineries. This caused a trade embargo with the United States that still stands today. In 1961, Castro declared himself a Marxist-Leninist and Cuba had become more independent from the Soviet Union.
In 1962, the United States found out that nuclear missiles were being stationed just 90 miles off the coast of Florida which struck fears about the possibility of World War III. But after a 13-day standoff, Soviet leader Nikita Khrushchev agreed to remove the nukes, against Castro's will who was involved in the negotiation.
Back in Cuba, under Castro's rule, the Cuban leader brought electricity to the countryside, gave opportunities for full employment, made advancements in education and healthcare as well as abolishing legal discrimination. He also jailed thousands of political opponents, limited the amount of land a person could own, abolished private businesses, and closed down opposition newspapers. Due to the limitations on political and economic options, hundreds of thousands left Cuba. Many Cubans left for the United States.
From the 1960's to the 1980's, Castro began to supply financial and military aid to leftist guerilla movements in Africa and Latin America. When the Soviet Union collapsed in the 1990's, Cuba's economy floundered. The United States expanded sanctions but Castro switched from Prime Minister to President allowing him to find new trading partners.  In 2008, Castro resigned from Presidency.
In 2015, Cuban and U.S. officials publicly declared that they agreed on terms of normalization of relations between the two nations. This opened up mutual embassies and diplomatic missions in each country. In 2016, at age 90, Castro died and was laid to rest in the city of Santiago de Cuba.
Overall Thoughts
I spent almost all of my time filming the streets and exploring the city. I found that if you're sticking close to Old Havana then you'll be able to get everything in quickly during your visit.
I would suggest just getting off your ship and hiring a driver/guide to take you where it is you want to visit.
Cubans work on their own schedule so don't expect anything to start on time. My first day tour bus was 3 hours late and I left feeling I could have spent that time in a more efficient way by just using a personal driver.
My overall thoughts on visiting, exploring and filming Cuba is, I can't wait to go back. I've never met more nicer people and I've traveled a lot. I hope that when Americans are able to go back and visit Cuba, you'll be one of them. Until then, we wait.
I have a large photo gallery on Flickr if you'd like to see more of my pictures. You can access it here:
---