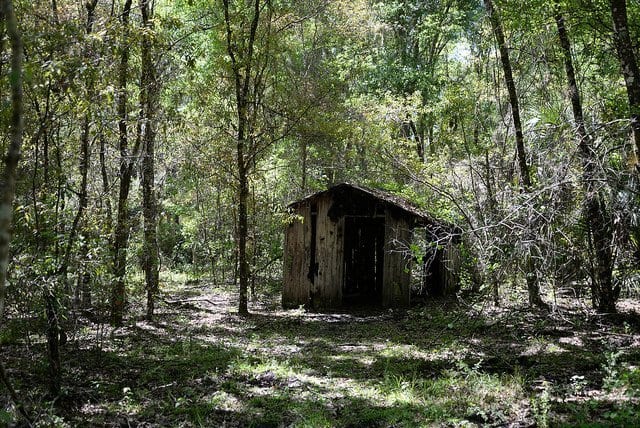 August 11, 2015
no comments
---
The Stewart Homestead Murders took place In May of 1918. A couple Isham (B. 1860) & Sarah Stewart (B. 1845) were sleeping in their cabin deep in the Central Florida woods. That night, two young men crept up and broke in using axes to murder them both.
The Sheriff's report said the bodies weren't discovered for about a week and when they were found, the cabin was covered with vultures. The coroner's report stated they were both killed in their bed.
The motive was robbery and it was the woman's grandson and his friend. Both Josh Browning (Grandson of Sarah Stewart) & John Tucker (his friend) were caught and both, after a few trials, were sentenced to 20 years in prison for murder, 10 years for each offense.
It started when the husband took all of his money out of the bank and the family heard the rumor. The grandson wanted a new truck and knew that he could pay for it with the cash he would walk away with. He talked a friend into going out with him and that night they achieved their goal.
I was aware of the lost cabin and had a good idea where I might find it. I set out on a Saturday morning and hiked out about 10 miles. The cabin wasn't easy to see but when it came into sight, it gave me chills.
As I walked up, the first thing I saw was the cabin almost fully in tact except the missing wall on one side and then to the left was their graves. I first walked into the cabin to see what was left and found a seat made out of a tree stump. I saw nails and tacks on the top showing where they had padding on it for a seat near where an old stove had been.
I walked around the property and found old horse/cattle fencing, a very tall orange tree which had no reason growing there and pure silence. The location of the property sits in the middle of the Central Florida swamps and forest. It's a remote area where no one lives anymore.
It was really an amazing find with what still stands after almost 100 years.