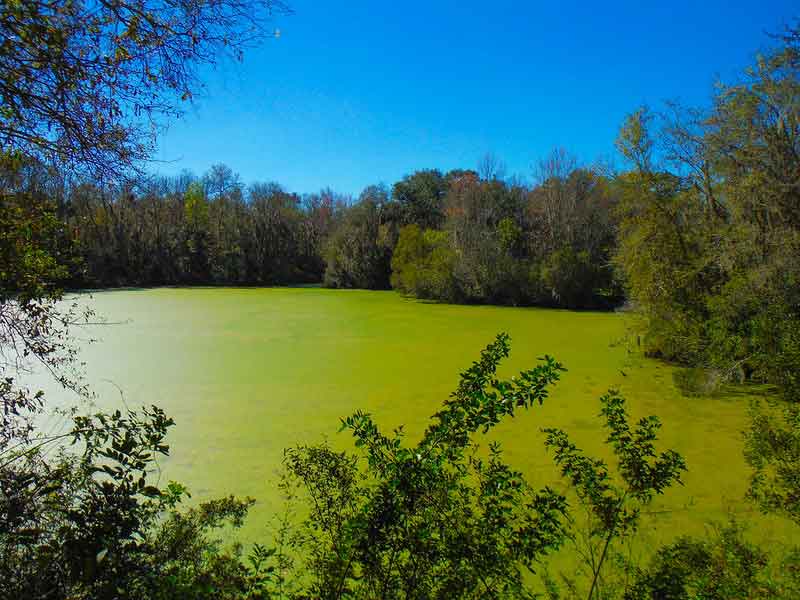 September 11, 2014
no comments
---
Park Information
Alafia River State Park Trail Map
Alafia River State Park Home Page
Address
Alafia River State Park
14326 South County Road 39
Lithia, FL 33547
Hours
8am – Sunset
Entrance Fee
$5.00
Alafia River State Park is located at 14326 S. County Road 39, Lithia, FL 33547 in Hillsborough County. There is a $5 fee to enter the park which covers 6260 acres.
Alafia River State Park is located on an old phosphate mining area. There are big elevation changes as you hike up and down old mounds and along ridges. The first thing you'll notice is the color of the water, green. The top of the water is green in color due to duckweed. To me, it looked like little green cups. Just below the surface, you'll find crystal clear water. The source of this clear water is from the Lithia Springs.
Hiking Trails Include
Old Agrico Hiking Trail
River Loop Hiking Trail
Multi-Use Trail
It takes 2 – 3 hours to hike it all. There is an abundance of wildlife in the area. Be careful you don't step on an alligator. The day I was here, I didn't see him and stepped on his tail. He flew into the water and away from me. I saw osprey, alligator and turtles as well.
Alafia River State Park Hiking Suggestions
Good hiking shoes or boots
Water (My Camelbak carries 1/2 gallon)
Bug spray
Trekking pole
The elevation is up and down the whole way. Keep this in mind as I know many who hike in Florida assume everything is flat. I appreciated it and it gave me a good workout. I did get turned around a couple of times so make sure you have a trail map with you (I posted a link to one below for you) and keep your eyes out. I know there are gators in the water here so don't walk your dog on the lower trails near the water. I actually saw hikers walk their dogs right up to and along the water. Remember, I stepped on an alligator while hiking the lower trail so watch your kids as well if they get too close.