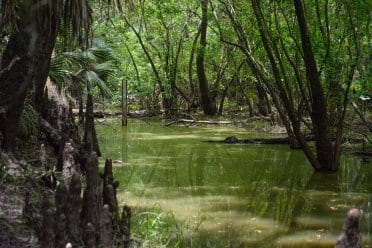 September 11, 2014
no comments
---
Park Information
Alderman's Ford Regional Park Trail Map
Alderman's Ford Regional Park Home Page
Address
Alderman's Ford Regional Park
9625 Canoe Launch Road
Lithia, FL 33547
Hours
7:30am – 5:30pm
Entrance Fee
$2.00
Alderman's Ford Regional Park is located at 9625 Canoe Launch Road, Lithia, FL 33547 in Hillsborough County. There is a $2 entrance fee.
The park offers a small 0.3 mile hiking trail loop, however, if you venture off trail like I did, you can spend all day out here and get some scenic views of the river.
When I started my hike, I took the trail towards the Alafia River and then hiked down the river. The river runs East and West and I used that as a guide so I didn't get lost. It's tight in some areas due to vegetation and growth but mostly passable. The scenes along the river are great. You'll follow the clear water of the river down passing cypress swamps and will find a lot of evidence of wild hog as I saw a lot of rooting and nesting beds. Make sure to use the Alafia River as your guide so you don't get lost.
The view on the river is nice. I recommend this off trail trip to anyone who asks me about the area.
Alderman's Ford Regional Park Hiking Suggestions
Bug spray is a must
Water (My Camelbak carries 1/2 gallon and I went through it)
Trekking pole (Lots of snakes around the cypress swamp areas)
Due to the cypress swamps, there are a lot of mosquito's so make sure to bring bug spray and lots of water. I hiked the river in July and the humid heat under the tree canopy made it even worse. It's a good work out though with great views of the river so don't forget to bring a camera. I saw one dead snake and zero alligators so I felt pretty safe swimming in the river. It was good on a hot July afternoon in Central Florida.