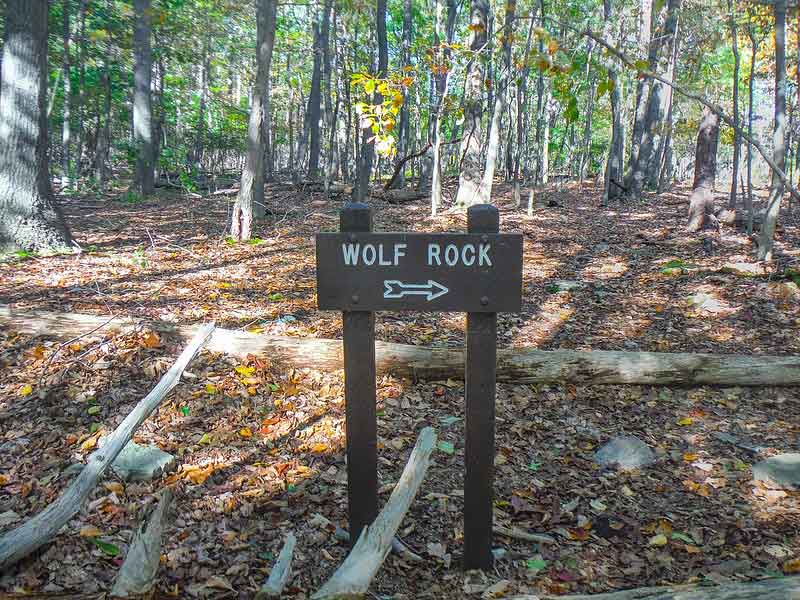 October 10, 2014
no comments
---
Park Information
Catoctin Mountain Wolf Rock Trail Map
Catoctin Mountain Park Home Page
Address
Catoctin Mountain Park
6602 Foxville Road
Thurmont, MD 21788
Hours
Sunrise – Sunset
Entrance Fee
Free
Wolf Rock is a summit located in Catoctin Mountain Park. The park is located at 6602 Foxville Road Thurmont, MD. There is no fee to enter the park. I enjoyed the trail in October with the leaves changing color but was disappointed with the view when I reached the summit.
It took about an hour to get up and back from the summit. The trails are very good and clearly marked. There are switchbacks almost all the way up the mountain. The terrain was rocky in some instances and when I went there were leaves on the ground covering these areas so take caution. It was a quick hike up though.
When I reached the summit, I expected to have a better view but it was blocked by trees and of course, rock. It was still worth the hike up. I look forward to hiking the rest of this mountain as it contains a lot of trails and challenges.
Catoctin Mountain Park Hiking Suggestions
Bring 1/2 gallon of water (I brought my Camelbak)
Good hiking shoes or boots
Layered clothing (Depending on season)
Trekking pole (Optional – I didn't have one but the hikers I saw had theirs)
This was a workout hiking up the mountain using switchbacks. It was steep and you really worked out your legs. When I get back to the area, I'll hike it again and attempt other summits as the area was beautiful.
The area around Catoctin Mountain Park offers a lot of hiking opportunities. On the same day I hiked up the mountain, I also went to Cunningham Falls State Park and climbed up the waterfall. If you plan on going, make sure you have a list of things to do. Unfortunately, I ran out of time or I would have done a lot more trails in the area. My plan is to head back in the near future.