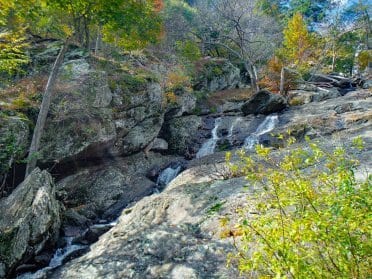 October 9, 2014
no comments
Cunningham Falls State Park Hiking Review
Length

Elevation

Historical Value

Scenery

Terrain

Trail Markers
Summary
This hike and climb was great. The trail leading to the falls was good. If you end up climbing up the falls then be prepared to wear the proper boots. The view is what makes this such a good hike & climb.
Hike Details
Length: 1.84 Miles
Hours: 1:14:00
Average Speed: 1.5 MPH
Maximum Speed: 7 MPH
Maximum Positive Gradient: 7.9%
Maximum Negative Gradient: -9.4%
Total Ascent: 478 Feet
Total Descent: 516 Feet
---
Park Information
Cunningham Falls State Park Trail Map
Cunningham Falls State Park Home Page
Address
Cunningham Falls State Park
14039 Catoctin Hollow Road
Thurmont, MD 21788
Hours
8am – Sunset (April to October)
10am – Sunset (November to March)
Entrance Fee
$5.00
I found a great hike at Cunningham Falls State Park located at 14039 Catoctin Hollow Road Thurmont, MD in Frederick County. There wasn't a fee to enter the park.
I haven't hiked out to a waterfall in many years due to the fact I've been living in Florida for the past 4 years. However, while researching hiking locations in Maryland, this one really stood out. The falls are over 70 feet high and there's only about a 1/2 mile hiking trail to the location.
The weather was great (70 Degrees & Sunny) and in October, the leaves were changing color so it made the pictures look even better. I started on the easy 1/2 mile hiking trail that takes you right to the falls. There was a little elevation change but nothing to worry about.
Once I got to the falls, I couldn't help but climb it to the top. I had the right boots on and I have previous experience with climbing rock without any gear. I would not recommend climbing the falls. This is done at your own risk.
NOTE: There are signs everywhere that say "It is not advised to climb the falls"
From the observation decks below, you'll have a great opportunity for photographs. As with any hike that includes elevation, make sure to wear good hiking boots, water supply and snacks. I was warned a number of times about snakes. In the Mid-Atlantic, we have Timber Rattlers and Copperheads which are both venomous. They blend right into the ground with the leaves changing color and falling, it makes it even harder to spot them.
Cunningham Falls State Park Hiking Suggestions
Bring 1/2 gallon water (I used my Camelbak)
Good climbing boots or shoes (If you plan on climbing the falls)
A camera (Great place for photos)
Cunningham Falls State Park was a quick and easy hike I would recommend to anyone that is looking for an hour's worth of exercise and also looking for photographs of nature and waterfalls.