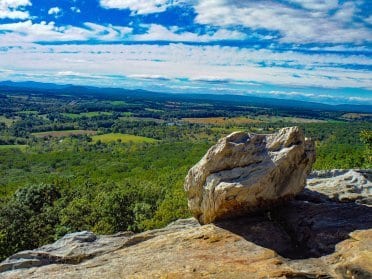 October 6, 2014
no comments
---
Park Information
Bull Run Mountain Trail Map
Bull Run Mountain Conservancy Home Page
Address
Bull Run Mountains Conservancy
17405 Beverley Mill Drive
Broad Run, VA 20137
Hours
8am – Sunset
Entrance Fee
Free
The trail head for Bull Run Mountain is located at 17405 Beverley Mill Drive, Broad Run, VA 20137. There is no admission fee to hike up the mountain.
The weather was great on Saturday. It was around 70 degrees and sunny so myself and some friends set out to hike Bull Run Mountain, located on Beverly Mill Drive in Broad Run, Virginia.
Bull Run Mountain was heavily involved in the Civil War and remnants still exist on the mountain of the battle which makes this hike to the summit not only a learning experience but a good workout as well.
Historical Points Along The Trails
Chapman's Cemetery
Dawson's Cemetery
Mountain House
Quarry Trench
Beverley Chapman's Mill
Trails on Bull Run Mountain
Mountain Road Trail 0.9 Miles
Quarry Trail 0.7 Miles
Chestnut Ridge Trail 2.1 Miles
Chestnut Ridge Loop Trail 0.9 Miles
Ridge Loop Trail 0.7 Miles
Catlett's Branch Trail 0.3 Miles
East End Trail 0.7 Miles
Dawson's Trail 0.3 Miles
Fern Hollow Trail 0.8 Miles
Chapman Trail 0.1 Miles
On our hike, we took a number of the trails (Great trail markers) past the cemeteries and made our way up the slope to the summit. The views are great at the top. This trail is populated on the weekends so be aware it's not a quiet hike. The pathways are clean and it's easy walking. I'm new to hiking up mountains but I learned it's a lot easier hiking up them than hiking back down. I saw a number of people trying to make it to the summit without the proper gear. This included one person wearing flip flops and looked like they were mentally done less than half way up the  mountain.
Bull Run Mountain Hiking Suggestions
Hiking boots
Long pants
A light jacket
Water (I had half a gallon in my Camelbak)
Snacks
First aid kit with band-aids (In case of blisters)
This is a great starter hike if you want to get into good enough shape to hike larger mountains. I plan on hiking these trails a lot in the near future.