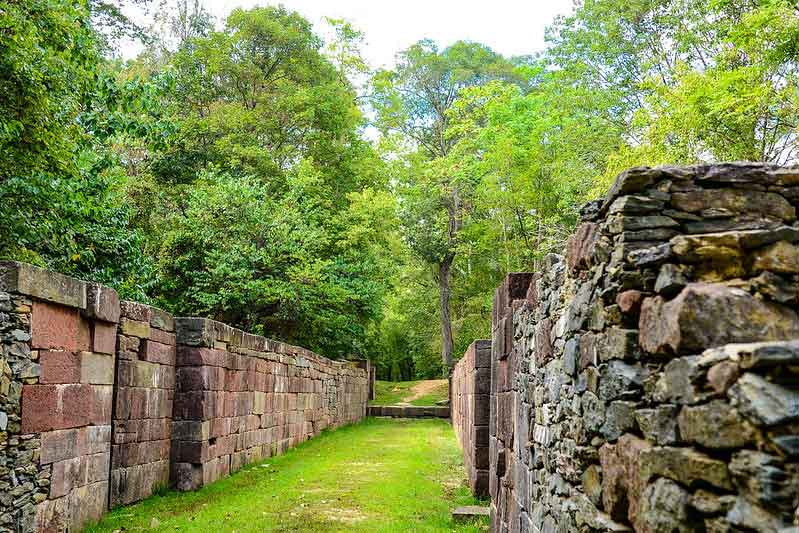 October 12, 2014
no comments
Park Information
Patowmack Canal & Matildaville Trail Map
Great Falls National Park Home Page
Address
Great Falls National Park
9200 Old Dominion Drive
Mclean, VA 22102
Hours
7am – Sunset
Entrance Fee
$10.00
The Patowmack Canal Trail is located in the Great Falls National Park at 9200 Old Dominion Drive Mclean, VA. There is a $10 entrance fee and the park is run by the National Park Service. It is considered a National Historic Civil Engineering Landmark today.
The Patowmack Canal Trail has locks that helped with river traffic and 5 of those locks were constructed between 1785 – 1802. It was the first river navigation system for trade with the West (Ohio back then). It was constructed by George Washington who served as president of the Patomack Company between 1785 – 1789.
George Washington's vision was to make commerce better between Washington, DC and the West but using the river. Great Falls has large waterfalls that are 75 feet high through the area and ships needed to get down the river but avoid the waterfall by using a canal that went around them. The locks were used between 1802 – 1828.
On my hike, I came across Lock #1. The constructed lock still stands today with Masonic engravings in the stone. I saw 4 Masonic compasses engraved along the top of the lock. I found additional engravings on the side of the stones that were used as the walls.
The Patowmack Canal Trail was a very historical hike for me. To see what was constructed in the 1700s and still stands today along with the Freemason signature of the compasses, left me stunned. I urge anyone who is a fan of history to take this hike out and take lots of pictures. This is an easy walk with mostly flat ground.
Patowmack Canal Trail Hiking Suggestions
Shoes are fine for this walk
A bottle of water depending on what season
Bring a camera
Take time and see the falls as well
There are educational signs around the area with good pictures that explain how the canal and locks worked back in the day. You'll learn a lot about history on this hike but keep your eye out for the engravings in the stone while you are there. The engravings are easier to see on a rainy day.