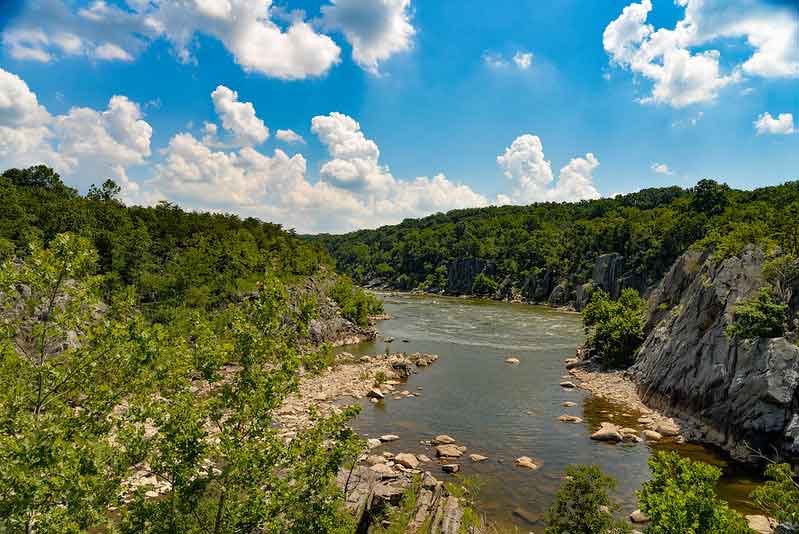 July 21, 2015
no comments
Rocky Islands Hiking Review
Length

Elevation

Historical Value

Scenery

Terrain

Trail Markers
Summary
A very challenging hike and rock climb experience on the Rocky Islands. Make sure you are in good shape and wear the right gear when attempting this area. It's well worth the workout due to the river and scenery. You'll have a great day here.
---
Park Information
C&O National Historical Park Trail Map
C&O National Historical Park Home Page
Address
C&O National Historical Park
11710 MacArthur Blvd.
Potomac, MD 20854
Hours
8am – Sundown
Entrance Fee
$10.00
When I was hiking the Billy Goat A Trail in the Chesapeake & Ohio National Historical Park, I saw a range of rocky peaks in the middle of the Potomac River. This area is called the Rocky Islands. I knew I'd get out there later in the week and explore them.
About a week later, I found a sunny day in the 60s and headed out. I parked in the parking lot of the Park and walked down the towpath until I found a walk down to the river. I had to climb along the rock to get around and over the river to the Rocky Islands. I felt like I was walking on the moon at some points. There are no trails or trail markers for this area in the Park so there are many ways to reach the Rocky Islands. I did my best that day but have found better ways to reach them now I've been out a couple of times. The hike out to them is really just stepping from one rock to another and will build good leg muscle if you do this often. Note that this is not designated as a hiking area but explorers will go out to them.
Once I got over to the Rocky Islands I ended up climbing all day. It was great exercise and I got some of the best photographs of the year of the rocks and the Potomac River. I loved the work out I got from jumping rocks and climbing to the tops of the peaks which are not more than 100 feet above the river. Needless to say, I was in bed early that night.
I've researched and found there are Class 2, 3 & 4 rock climbs in this area. Make sure you are in good shape and come prepared. If you do, you'll have a great time exploring, hiking and rock climbing.
Rocky Islands Hiking Suggestions
Bring a lot of water (I use my Camelbak)
Wear good hiking boots
A camera (Great views of the river)
Bring snacks (This can be a calorie burner)
Always bring a cell phone for emergencies
Bring a friend (Safer in pairs)
Do not attempt in wet conditions
Comfortable with heights
The Rocky Islands were great for me. If you plan on going out to this area, be aware. This area is difficult and dangerous in regards to falls and drowning. Only attempt this if you are in good shape. I saw a number of beginners try to reach this area and fail. They weren't wearing proper boots, lacked water for the trek and some were just out of shape.