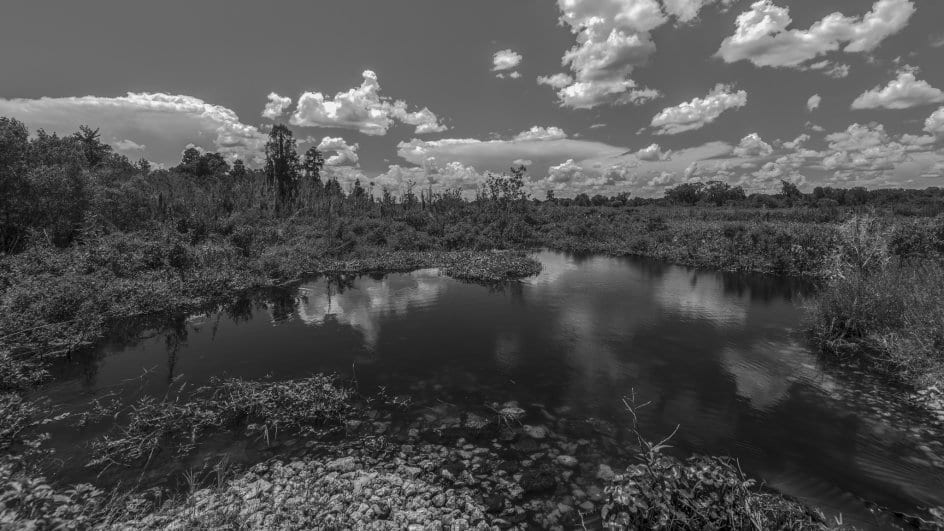 July 21, 2015
no comments
Circle B Reserve Hiking Review
Length

Elevation

Historical Value

Scenery

Terrain

Trail Markers
Summary
Circle B Reserve is the best place in Florida to hike around and film wildlife. Hiking trails are flat and smooth but very little shade so plan on a lot of sun. The list of wildlife is big and my recommendation is to go at dawn or dust when the animals are out feeding to see them all.
---
Park Information
Circle B Reserve Trail Map
Circle B Reserve Home Page
Address
Circle B Reserve
4399 Winter Lake Road
Lakeland, FL 33803
Hours
5:30am – 8:30pm (Hours are seasonal)
Entrance Fee
Free
Circle B Reserve is located at 4339 Winter Lake Road, Lakeland, FL 33803. There is a welcome center at the entrance and there is no admission to enter the reserve. It offers the most wildlife I've  ever seen hiking in a 1267 acre area. Bring your camera!
The History
Circle B Reserve was a former cattle ranch for many years. It was taken over by the Polk County Environmental Lands Program and the District and the goal was to protect the floodplain and restore the Banana Creek marsh system. Today, the area is home to a vast range of animals.
The Trails
I found the trails to be very wide and clean. Central Florida does get a lot of rain in season so you may have to walk around some flooded spots but it's not bad. During alligator nesting season (July 15th – Oct), they do shut down Alligator Alley and Marsh Rabbit Run trails. This is due to the alligators building their nests close to the trail and high enough from the water that they nests aren't washed away. There are still plenty of trails open though during these times.
Share The Trails
I've had to share my trail with plenty of animals including bobcat, raccoon and alligators (very large ones). Be aware of your surroundings when visiting. I've never had a problem and always give wildlife plenty of distance.
Circle B Reserve Trails Include:
Windmill Whisper
Marsh Rabbit Run
Wading Bird Way
Eagle Roost
Heron Hideout
Alligator Alley
Wildlife
I used to live near Circle B Reserve and found myself out here hiking and photographing often. It's like going to a zoo but there are no barriers between you and the animals. Several notices are present warning you about 10+ foot alligators that share the trail with you. USA Today named it as one of the 51 great places to see wildlife in America.
Wildlife You Might Encounter
Alligator
Bobcat
Feral Pig
Spotted Skunk
White-Tailed Deer
Coyote
Fox (Red & Grey)
Bald Eagle (Two nests on site)
Raccoon
Osprey
Otter
Various Birds
The Hiking
The best time to visit Circle B Reserve is either at dusk or dawn. You'll be able to film at a time where the animals are active. Of course, this is also a great area to just hike or mountain bike as well. I'm a nature photographer so I primarily use it to access wildlife. Circle B has a variety of scenic views as well. I would suggest a professional camera with a telephoto lens. Take your time as you walk through the area and keep your eyes open at all times. I've met people from all over that come to Circle B for the views so it's a very popular area during the daytime on the weekends.
Circle B Reserve Hiking Suggestions
Bring plenty of water
Good hiking shoes or boots
Bug spray
Sunscreen
Snacks