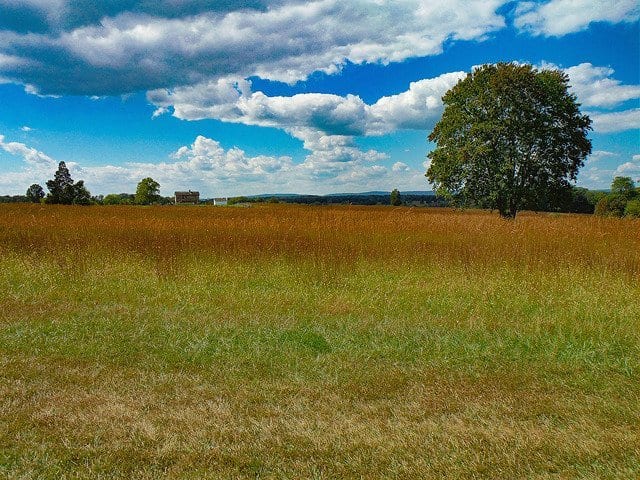 October 17, 2015
no comments
---
Park Information
Manassas National Battlefield Park Trail Map
Manassas National Battlefield Park Home Page
Address
Manassas National Battlefield Park
6511 Sudley Road
Manassas, VA 20109
Hours
Sunrise – Sunset
Entrance Fee
$3.00
Manassas National Battlefield Park is where the first shots were fired during the Civil War in 1861. The park is located in Manassas, VA and offers two trails for hiking to historically important locations across the battlefield. It is only $3 for a three day pass.
The first hiking trail is called the First Manassas Trail because this is where the first battle of the Civil War took place. Along this trail, you will see where General Thomas J. Jackson got his nickname Stonewall.
This is a 5.4 mile hiking trail.
Hiking Trail Loops
Henry Hill Loop Trail (1.2 miles)
Stone Bridge Loop Trail (1.3 miles)
Matthews Hill Loop Trail (0.9 miles)
Sudley Loop Trail (0.6 miles)
The second hiking trail is called the Second Manassas Trail and this is because the second battle took place at this location. Along this trail, you will see where during a three day battle in August 1862, General Robert E. Lee and his confederate soldiers found against General John Pope and his Union soldiers.
This is a 6.2 mile hiking trail.
Hiking Trail Loops
Brawner Farm Loop Trail (2.6 miles)
Unfinished Railroad Loop Trail (1.2 miles)
Deep Cut Loop Trail (1.2 miles)
Chinn Ridge Trail (1.0)
Historical Points
Unfinished Railroad
Sudley United Methodist Church
Thornberry House
Chinn
Van Pelt
Stone Bridge
Ball Family Cemetery
Portici
L. Dogan House
Cundiff
Brawner Farm
Manassas National Battlefield Park Hiking Suggestions
Bring a lot of water depending what time of year it is (I had 1/2 gallon using my Camelbak)
Good hiking shoes or boots
Bug spray (Depends on what time of year)
Sunscreen
Both trails on the Manassas National Battlefield Park are hiking only, no bikes are allowed. I had great weather when I hiked out here but I noticed a lot of elevation in short areas. You'll find yourself in the sun while hiking across the battlefield and in thick woods with humidity and wildlife when finding the cemeteries. It was 74 degrees and no humidity the day I went and it couldn't have been a better day.